With our continuing adventures we wanted to find a GPS device that we could track our favorite routes while exploring in case we ever wanted to come back. We also wanted a unit that we could map those routes onto a computer and electronically share with our friends. After plenty of research and more inquiring at various retailers than we ever hope to have to do again; we eventually decided on the Garmin Oregon 650.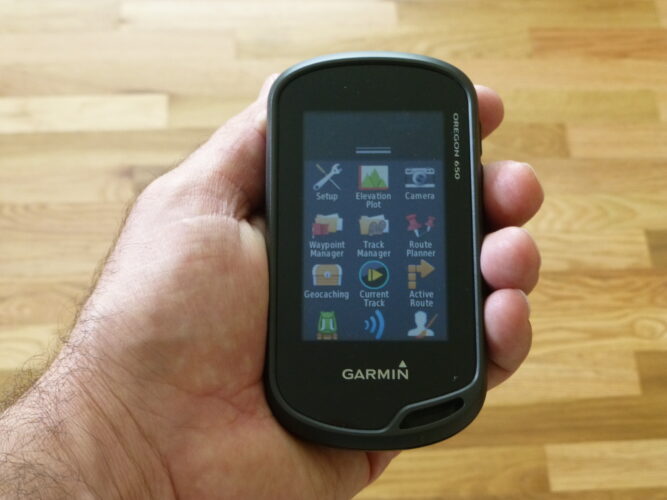 With technology advancing as fast as it is and being a group that relies on technology in our work environment, we consider ourselves pretty "tech savvy". With that position, learning a device like this should be a piece of cake right?
The first impression of the Oregon 650 was that it is a compact, handheld device that appeared rugged enough to handle the terrain we would be utilizing its functions in. After opening the package and inspecting everything that came with it, we were somewhat perplexed that we had to go online for decent operating instructions. We figured that may simply be because this little unit had so many wonderful things that it could do, the instructions couldn't possibly all fit in the box it came in.
Once we had gone through the process of registering our product (of which we had to download Garmin's software onto our computer) we found that we couldn't view any of the maps or information that we would collect unless we also downloaded the Basecamp software to allow us to view it. Now I understand there are things that are going to be additional add on items for equipment like this but… for the high cost of the equipment itself we expected a little less effort needed to actually see and view what we would collect.
Once the process of gathering all of the additional software needed was complete we started to familiarize ourselves with the Oregon 650. It is lightweight and fits comfortably in the palm of your hand and operates like most smart phones; this gave us hope that we would be able to pick things up quickly since it had a familiar feel. As with most smart phones the various apps have icons like any phone application, directing the user to the function of the unit that they are seeking.
Now this isn't a tool or item that I would figure most people will use on a daily, weekly or even monthly basis but more likely more in the summer or common months of bike riding, hiking or exploring. I spent several months trying to get to know this device, get comfortable with it and give it a fair chance before trying to write up any kind of evaluation. One of the problems that I did have because of this was the fact that I would go a few weeks or even a month or two between uses so I felt like I had to completely relearn the device and software every time I went to use it.
Pros:
I do like the size of the Garmin, it fits in the palm of your hand easily enough and the screen operates much like a smart phone so for the average person who owns a smart phone, it helps with getting comfortable with the unit.
There are several features and things preloaded on the Garmin unit that I wouldn't use often but was glad they are there like the "Geocache" folder in case that is something that I ever decided to play around with.
Another nice thing is the ability to create custom maps from trails that you have mapped so they can be used in presentations, planning or just a route planning option for an upcoming adventure.
If you are a hunter there are some great maps that a person can buy which will tell you if you are on private, state or federal lands, for the small investment can save you big by not getting caught trespassing by accident.
Cons:
The thing eats batteries like they are free so the rechargeable one that comes with it is the preferred option. If you plan to be out and need the dependability of the Garmin Oregon, I would suggest that you keep an extra set of batteries at the ready just in case you're out in the middle of nowhere and need the unit to get back to civilization.
The high cost of it was another "con" in my view, I'm sure that there are plenty of people who find it of value but for what I have been using it for I have found pretty much the same capabilities in an $11 app that I downloaded on my smart phone. Downside here is that when you lose the signal you also lose the satellite but in 95% of the scenarios I have been able to completely map and save where I have been. This savings of several hundred dollars makes it a viable option to me when I am getting about the same thing and have one less item to have to pack or carry in my trail pack.
Synopsis:
After playing around with the Garmin, Oregon 650 while also using my iphone with the MotionX GPS app, I found that I could do almost as much with my $11 smart phone app as I could with a several hundred Garmin unit. On a cost based analysis I would say that the phone app was by far a better bang for my buck but what it lacked was the dependability when I am in an area that I completely lose all connectivity to any cell or satellites, therefore losing all mapping that I would hoped to have saved. This was in a very small percentage of the time.
There are several features that I have grown to like and use in the unit and with the associated software like the ability to make custom maps of which I can print, save and/or share. Some of the work I do includes presentations and this is one feature helps me in that work.
If I had to do it all over again, I would start with the phone app and then decide if what I wasn't able to do on it, justified the cost of what I would have to come out of pocket for the Garmin unit.